HBPA testifies on Massachusetts Gaming Commission legislation to revamp racing laws as the future of horse racing draws competing interests at State House legislative hearing
As Suffolk Downs prepares for its final weekend of racing in 2017 and looks ahead to its final season in 2018, state legislators and racing industry officials met in a hearing room at the Statehouse on September 19 to ponder the question: What's next?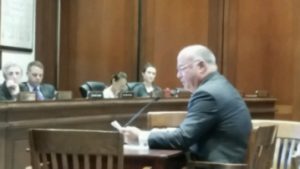 The Legislature's Joint Committee on Consumer Protection and Professional Licensure took testimony from a range of interested parties, including the New England Horsemen's Benevolent and Protective Association and the Massachusetts Gaming Commission. The MGC has been pressing legislation for several years that would bring the horse racing industry and its various sources of revenue more directly under MGC control. The Commission drafted legislation to that effect and the committee heard testimony on House Bill 9.
MGC Chairman Stephen Crosby testified that in order for the Commission to secure the future of the racing industry in Massachusetts it would have to have complete regulatory control over the industry and control of related revenues.
What became more evident during the course of more than an hour of testimony from various interests groups is that there is no unanimity on how to preserve and expand the future of thoroughbred racing in Massachusetts, an industry that Mr. Crosby described as being "at a crossroads" with proposals ranging from the NEHBPA's proposed state-of-the-art Horse Park to a retrofitted greyhound dog track that was closed for racing in 2010. House 9, said Crosby, would allow the MGC to get its arms around what is best for thoroughbred racing to "make this industry possible."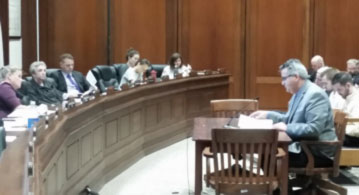 Testifying for Horsemen was Paul Umbrello, Executive Director of the NEHBPA, who agreed with the MGC contention that the state's racing statutes needed to be updated and modernized, but Mr. Umbrello said there also needed to be language in the legislation that protects the long-term interest of horse owners, breeders, trainers the hundreds of employees within the industry whose value has been on display with the extended racing calendar this season at Suffolk Downs, including bookeeping staff, food and beverage workers, wait staff, track crew and maintenance employees.
"Massachusetts needs a modern horse racing statute.  With the pending closure of Suffolk Downs in 2018 and the explosion of advance deposit wagering in the Commonwealth there is a regulatory and legislative vacuum with respect to racing unless 128A and 128C are updated," Mr. Umbrello testified. "We are grateful to the members of the Massachusetts Gaming Commission and their staff for taking the lead with respect to H.9.  We have been in communication with the Commission regarding the bill and shared our ideas as to how to improve this bill."
The NEHBPA will submit formal written testimony to the committee to be considered as it begins to deliberate the final form of the legislation.
As the 2017 meet ends we look forward to what 2018 might bring
The Suffolk meet has also been popular for local thoroughbred horse owners, breeders and trainers who are able to run their horses locally with the opportunity to compete for $1.8 million dollars in purses at a festive atmosphere where daily attendance reached as many as 8,000. We want to thank those who came out and participated and we look forward to your continued support. With the support of the Massachusetts Gaming Commission and Suffolk Downs, we were able to increase this year's racing from 6 days to 8 days.
Don't Forget to Join Us at Suffolk Downs September 30 and October 1!
Horse Park Update
Interest in the proposed Horse Park continues to grow. We have three sites under consideration, including the site in Spencer that we have already disclosed, and two sites in Central Massachusetts. All three of these sites would accommodate a 400-acre park easily accessible.
These proposals have been discussed at length by the NEHBPA board of directors, which recently authorized the NEHBPA to sign a letter for the Right of First Refusal for 400 acres of land in Central Massachusetts that would easily accommodate one-mile turf and dirt tracks, stables, equine event performance centers and a host of other collateral horse activities that would generate other revenues when there is no live racing
We are completing a comprehensive Business Plan that includes a feasibility study, land studies, and letters of intent and non-opposition from the towns and landowners where we are negotiating. The Plan will include sources of revenue that would be generated from live racing and related site activities including competitive equine events. The Horse Park would create up to 1,000 jobs and nearly $100 million annually in revenue and taxes.
Board Election Delayed
We are delaying the NEHBPA board election now on the advice of Counsel and support from National because of the special circumstances we are facing. More information to follow. Please return your membership form so we can make sure we have your current membership information on file.
Sincerely,
The NEHBPA Board of Directors